I wouldn't quite say I'm Inspector Gadget with the information that I found, but maybe his niece/sidekick Penny.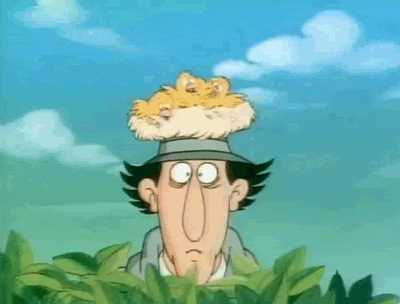 For my cyber-sleuthing activity, I searched for Megan Marie Gurksi. I started with a simple Google search, and then progressed to searching all of the other social media platforms. One of the first things that popped up in the Google search took me to a website that shows peoples' social media presence. These were Megan's results: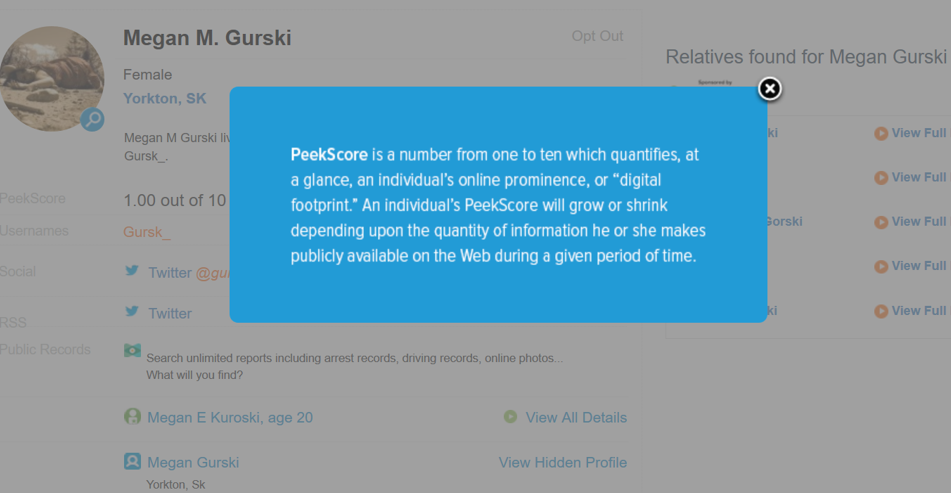 As you can see in the background of this screenshot, Megan's PeekScore is 1/10, this score couldn't have been more accurate! I tried following the Twitter handle that was posted on the PeekScore site, but that Twitter account no longer exists. I tried searching Google for more information , but only found information on another Megan Gurski who lives in Saskatoon and plays softball. Then I tried searching for her name on Instagram and Facebook, but she does not use her full name on either of those platforms, and same with Twitter.
After all of my failed search attempts, I cheated a little bit, and was able to find her Twitter account with our #edtc300 hashtag, found her blog with our #edtc300 blog site, and found her Facebook through a group chat we are in together.
After finding places to learn about her, I learned some fairly standard facts about her (definitely an undersharer).  She is an Education student at the University of Regina; Secondary Studies: major in Phys. Ed., and minor in Health. She lives in Melville, her birthday is April 5th, she likes sports and the outdoors, and she is learning French.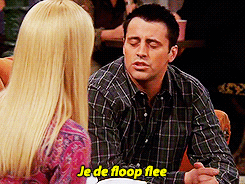 Aside from that, she doesn't share too many personal details on any of the sites she uses. Based on her digital footprint, it was a little difficult to form an impression. —  Not many photos on any of the platforms, not much of an idea of where she is from, or current involvement in activities or hobbies, and none of her platforms were linked. With her online presence, (aside from her Learning Project posts which are fabulous), there is not much in regard to learning about who she is as a person or as an educator. Because I know her from school, and other classes, I know what her personality is like, and didn't find much of that anywhere online, which to be honest, I was kind of sad about!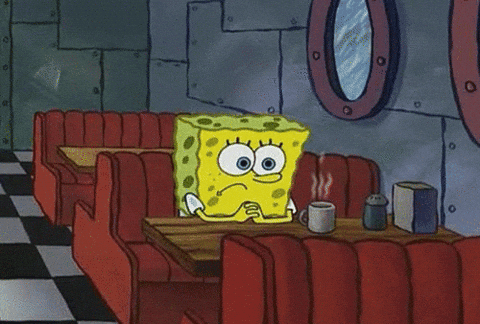 Overall, I enjoyed my time being a cyber-sleuth, even though I don't think I was very good at it. It made me think about my own digital footprint, and how much my own opinions have changed about my online presence and online identity. There was certainly a time in my life where I didn't have to worry about what memes I was being tagged in, or which employers  were searching me up on Facebook, or worry about whose posts I commented on, or what kind of people I have chosen to defend on social media. There was also a time when I was overly private about my online presence, blocking anyone who might give me a hard time, and ignoring or deleting activity that I didn't agree with, because I believed that no presence is better than one that maybe not everyone is okay with finding. Through the years though, and as I learn more about social media, digital citizenship, and my own digital footprint, I think I've opened up to learning about how my online presence can benefit me, rather than be a hindrance. So for now, I'm learning to find a balance!
One last thing… if you have a chance to check out this video, do it; it's kind of hilarious, and who doesn't love Ellen?!