I've been struggling to write this post for a number of reasons. I'm now entering my third week of learning how to code, and it is very slow going. I feel like I don't have too much to report on because I've just been doing a bunch of research and reading.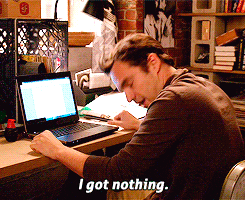 That being said, I have actually been learning a lot – to formulate words to describe what I've been learning though, is a different story. This past weekend, I ended up going to an 'Eyetracker Hackathon." This event was based on hacking into an eye-tracking program (which was originally designed for video games) in order to create an app, or a program, for people with mobility challenges to be able to create art with their eyes. The Tobii device has an infrared sensor which scans eye movement, and then projects the eye movement onto the screen in the form of art.
My next post will be a detailed reflection on the coding and eye-tracking experience, first hand, as well as some of the resources and insights I gained through that experience.